Steve was truly a visionary. Being a visionary is an intuitive faculty of being able to see beyond the current horizons of possibility. It is a powerful reflection of imagination not constrained by everyday boundaries. He was extraordinarily impatient with people who said "it couldn't be done". That was where some of his purported dictatorial unreasonableness would come from but in the end, he got what he wanted and everyone discovered that what seemed impossible could be done. Steve made the impossible possible.

Norman Seeff's previously unpublished photos of Steve Jobs, 1984. Complement with this rare PBS documentary about Jobs and NeXT.
"More important than building a product, we are in the process of architecting a company that will hopefully be much more incredible, the total will be much more incredible than the sum of its parts, and the cumulative effort of approximately 20,000 decisions that we're all gonna make over the next two years are gonna define what our company is. And one of the things that made Apple great was that, in the early days, it was built from the heart."
—
Steve Jobs
in a 
rare PBS documentary circa 1986
(via
explore-blog
)
(Source: , via explore-blog)
35 años de la APPLE ][ 2 —  35th Anniversary of the Apple ][  
Pongamoslo de esta manera: si Apple solo hubiera fabricado la Apple 1, el día de hoy la compañía seria solo recordada por algunos profesores interesados en la prehistoria de la computadora personal. Pero si la compañía hubiera desaparecido después de haber liberado la Apple 2 ][ aun así seguiría siendo una de las mas reconocidas compañías de computadoras de todos los tiempos. La Apple 2 ][ fue — y es — así de importante.
Put it this way: if Apple's only computer had been the Apple I, it would be remembered today only by scholars with an arcane interest in the prehistory of the personal computer. But if the company had folded after releasing the Apple II, it would still be one of the best-known PC companies of all time. The II was — and is — that important.
(Source: TIME)
Macintosh 28th Birthday! 
Hello, I am Macintosh. It sure is great to get out of that bag! 

Unaccustomed as I am to public speaking, I'd like to share with you a maxim I thought of the first time I met an IBM mainframe: Never trust a computer that you can't lift! 
(Source: folklore.org)
How the iPod changed the world of music



Back around 1979, I was an early adopter. Before the first Sony Walkman was available for sale in the United States, I had bought a Sony Pressman, a brick-sized and -weight device that could both play and record cassette tapes. I was initially interested in this device to record music that I played with friends; it had a built-in stereo microphone, as it was designed for recording interviews. But I quickly realized, as I carried it to and from my friends' homes, that I could also listen to music on it.

When I think back to those days, when I think back even 10 years ago, I realize how far we've come since the introduction of the first iPod. While the Sony Walkman slimmed down a great deal after the earliest versions, its size was still constrained by the size of the cassette tapes that it played. The original iPod, introduced exactly a decade ago, was roughly the size of one of those tapes. Yet unlike many other MP3 players at the time, which used flash memory, and held only a handful of songs, the original iPod had 5GB of storage. Apple touted the original iPod as holding "up to 1000 CD-quality songs on its super-thin 5GB hard drive." Apple also emphasized how quick FireWire syncing was: it let you download an entire CD into iPod in less than 10 seconds, and 1000 songs in less than 10 minutes—30 times faster than USB-based players.

In those days, the bands I listened to were The Cure, Joy Division, Theater of Hate, The Durutti Column, Talking Heads, and other postpunk bands. I would walk through the streets of suburban Queens, New York, the Pressman wedged in the back pocket of my blue jeans—or, in winter, in a coat pocket—with a pair of headphones on my ears. Back then, you didn't really see people wearing headphones. The Walkman wasn't introduced until June 1980, and even then, it didn't catch on very quickly. You would occasionally see people in the streets of Manhattan with headphones on, but it took a few years before it became common.

In Apple's press release from October 23, 2001, former CEO Steve Jobs said, "With iPod, Apple has invented a whole new category of digital music player that lets you put your entire music collection in your pocket and listen to it wherever you go. With iPod, listening to music will never be the same again."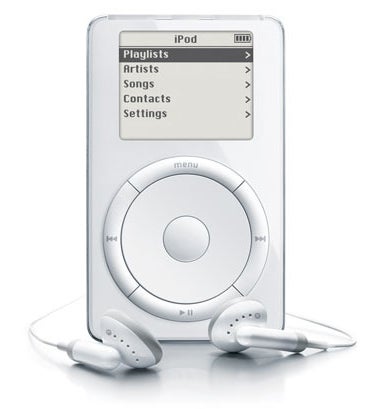 The original iPod.

The real advantage of the iPod was its integration with iTunes. Unlike other MP3 players, which required users to drag music files into folders, iTunes allowed you to sync your music automatically to an iPod. Apple's integration of hardware and software made the user experience much easier than what other devices of the time offered.

And now, think about what we have: the iPod classic with 160GB of storage, or 32 times that of the original iPod. The iPod touch, with up to 64 B storage; even though this uses flash memory, it's much faster than flash memory that was used 10 years ago. And, of course, the iPod has morphed into the iPhone and iPad, both devices that can play not only music, as the original iPod did, but also all the other types of media that we use in digital form today—not to mention the many apps that we use to work and play on these devices.

The iPod changed the world of music, in several ways. While the Sony Walkman democratized music listening in the streets, or during your commute, you still needed to carry around cassette tapes. These took up space, and were especially susceptible to dust and lint from your pockets. With the iPod, you can carry your entire music collection in your pocket (unless your music collection is as big as mine, that is). No longer do you have to decide before you go out of the house or on a trip what music you might want to listen to and remember to bring those tapes. And, with the ability to now download music from the cloud, you may never even have to worry about what you have synced to your iPod; you may be able to download the music you want when you want to listen to it. The importance of the iPod is therefore not only the device, but the entire ecosystem that it depends on. From iTunes on your computer to iCloud, the iPod is one link in a chain that brings music to your ears.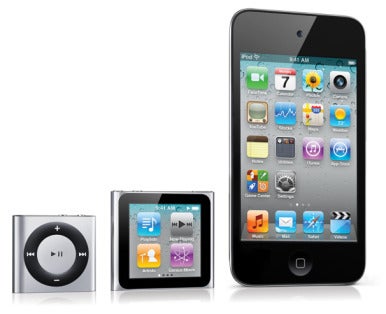 The current iPod lineup (minus the shunned iPod classic).

And the iPod changed the world of music in another way: it brought the idea of "shuffle" to listeners. With the iPod, and iTunes, you can listen to music at random. Instead of making choices, you can let fate choose what you listen to. In some ways, this approach to listening to songs devoid of their context in albums—not that different from radio, just without the DJ's grating voice and the loud commercials—has helped speed the erosion of music sales. No longer approaching music as albums, listeners have taken to buying individual songs, from the iTunes Store, Amazon.com, and other places.

I used to listen to CDs; actually listen to them on a CD player. I buy a lot of CDs, and I review classical CDs, so I get a lot of plastic discs. Five years ago, when hard drives and iPods held less than they do now, I didn't rip every CD I received; I would choose the ones that I would want to listen to on a portable device, and listen to others on the CD player. Now, I rip every CD I get, put all my music in my iTunes library, and choose what to sync. Naturally, my iTunes library is for more than just syncing to my iPods: my Mac is connected to my stereo so I can listen to music as I work and when I'm relaxing; I stream my music to an Apple TV connected to a stereo in my living room; and my music library is the interface between me and my music collection.

The iPod is partly responsible for this new approach to managing music my collection. Back in the day, when all I had was vinyl, my collection was somewhat like that of the character in the book/movie High Fidelity. I, too, would go through periods when I would try to figure out new ways of organizing all of those LPs. But now, everything is in my iTunes library, and all that matters for organizing my music collection is how I tag my files and create playlists. If not for the success of the iPod, iTunes would probably not be my "digital hub." Now, 10 years after the introduction of the iPod, this device has become commonplace. While Apple has the lion's share of the MP3 player market, iPod sales are slowing down as there are fewer new users, and many existing users switch to the iPhone.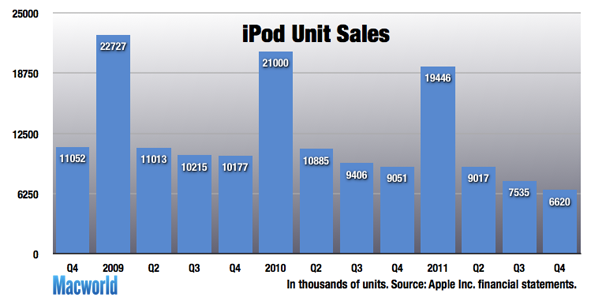 iPod sales have declined over the past few years, perhaps reaching a plateau.

It's clear that the iPod has reached a plateau, with little room to add new features, but perhaps this is the sign of a device becoming mature. In 10 years, the iPod has certainly changed the world of music and the way we experience music. Who would've thought, 30 years ago, that I could take a trip with hundreds of live Grateful Dead concerts, every single Bob Dylan album, all of Franz Schubert's lieder, all of Haydn's 104 symphonies, all off Beethoven's string quartets and piano concertos, every Bill Evans album ever released, audio versions of all of Shakespeare's plays, and music by hundreds of other composers, artists, and performers—all on a single device. We take this for granted. We can have all the music we want, all the time, or any time. In some ways, it's almost too easy to listen to music. But having our entire music collections at our fingertips has made music, for many people, an integral part of their lives.

[Senior contributor Kirk McElhearn writes about more than just Macs on his blog Kirkville. Twitter:@mcelhearn Kirk is the author of Take Control of iTunes 10: The FAQ.]
Today is 10 Years of the first iPod.
The iPod as an iconic cultural force
Three ways the iPod has impacted Apple, the music industry, and us
Rarely does an electronic gadget become so ubiquitous that it defines an entire market category and transcends the mantle of nerd toy to become an iconic cultural force. Apple's iPod, introduced 10 years ago Sunday, accomplished just that.

The classic iPod design, with its scroll wheel interface, remained relevant for only six years—from 2001 to 2007, when Apple introduced the iPhone and iPod touch. As it stands today, dedicate hardware MP3 players have taken a bit role in a larger cast of software applications on multifunction devices like smartphones.

For all the praise tech pundits like to heap on the iPod, we have to keep things in perspective. iPod's reign on this earth has been short—powerful and influential, but short.

Historically speaking, the classic iPod era passed in a blink of an eye. But even in six years, Apple's parade of tiny media devices made quite an impact, and it has continued to the present. Here are a few major ways iPod changed the world.
1. It transformed Apple
In 2001, before the iPod launched, most people knew Apple best for its line of Mac computers. By 2004, the iPod dominated Apple's identity in the public consciousness. And for good reason; it was a breakout product that quickly began to earn more revenue for Apple than any product it had ever sold.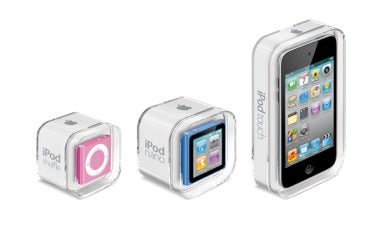 Before the iPod, Apple products were consigned to the Mac nerd ghetto. You'd be hard pressed to pull a random person off the street and find that they knew even what Apple was. But by 2004, the iPod had sold enough units that everyone wanted and/or used an iPod, making Apple a mainstream cultural player like never before. At that point, if you asked a person on the street what products Apple made, odds are pretty good that they'd pull an iPod out of their pocket and show you.

It's amusing to point out that, in 2004, Apple had been making Macs for 20 years—and the iPod for only three—and that one digital music player changed the fundamental nature of a thirty year-old company almost overnight. Within a few years, Apple expanded into two other consumer electronic categories with the Apple TV and the iPhone. To reflect these changes, Apple Computer, Inc. dropped the "Computer" from its corporate name in 2007.

The iPod's success went hand-in-hand with the iTunes Music Store, which opened in 2003 and became the United States' largest music retailer only five years later. Apple's domination of the music industry, along with iPod follow-ups like the iPhone and iPad, soon made Apple the second most valuable corporation in the world.
2. It shook up the music industry
The turn of the millennium saw the music industry in a flat-out panic. MP3s gained popularity around the mid-late 1990s due to small file sizes and relatively high sound quality. By 2000, users illegally traded hundreds of thousands of songs in MP3 format on Napster, a peer-to-peer music sharing service. The music industry found itself competing against an unregulated spigot of digital music files that flowed as freely as water from a tap.
Enter Apple, one of the first few companies that had the sense to try to turn the music industry's digital liability into an asset. Illegal or not, downloadable music provided a convenience and ease-of-use that listeners craved, and Apple bet that people would pay for the privilege.

They were right. The iTunes Music Store, the only legal game in town that sold major label music for a time, quickly became a force to be reckoned with in the industry. The iTunes Store pulled so far ahead that a number of traditional, non-online music retailers filed for bankruptcy within a few years.

In the process, Apple had pulled downloadable music out of the seedy back alleys of the Internet, shined it up, and delivered it to the lap of the cultural mainstream.

The iPod not only rocked the boat for the people who distributed music, but the people who made music as well. Being a software-based retailer, Apple's music store allowed smaller artists to sell their music with relatively low barriers to entry compared to the cost of fabricating and distributing a plastic disc. As a result, the number of artists—and thus, consumer choice—on the Internet exploded, marginalizing the earning power of major musical acts. The iPod effectively took a big slice of bigwig revenues and distributed it among the indie label masses.
3. It provided the soundtrack for our lives
The iPod, as a digital companion, has profoundly impacted millions of people in a very personal way. Its portability, by virtue of its small size and long battery life, meant that people took it with them wherever they went.

Our iPods could always be playing—on the bus, on the street, when working out, or while drifting to sleep—focusing our lives through a new musical lens. With the iPod guiding us through life experiences good and bad, each one of us becomes a star in our own private movie.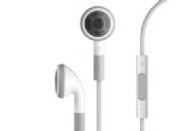 And private it is, encasing us in a secret musical bubble that tends to shut out others in public spaces, much to the chagrin of conservative cultural purists and gregarious subway-goers everywhere.

Within this bubble, many have enjoyed the primacy of their own music verses that would be imposed onto them by others. (Elevator music be damned.) The iPod's large capacity meant people could effectively program their own private radio stations with days' worth of content, which Apple's device could deliver in a novel play order called "shuffle."

That brings us to another point about listening habits inspired by the iPod: the diminishing form of the music album. Not only does the iPod have the potential to completely negate whatever playing order each album's creators intended, but its accompanying music store, which sells songs à la carte, delights in breaking up albums in ways never before seen.
In the end, iPod
For the past 10 years, the iPod has been a friend to music lovers, a bane to industry tradition, and a cultural catalyst. Its time as a standalone media player (without the bells and whistles apps provide) may have come and gone, but its influence will last forever; it's entwined in our cultural DNA. The digital media revolution first promised—and delivered—by the iPod 10 years ago lives on in a new generation of world-changing Apple products. In that way, the iPod's story will continue for years to come.

[Benj Edwards is a freelance writer who specializes in computer and video game history. He is also Editor-in-Chief of Vintage Computing and Gaming, a blog devoted to vintage technology.]

(iPod illustrations by Fabiola Cabral)
Not long after Steve Jobs returned to Apple, the iconic "The Crazy Ones" commercial aired as part of the larger Think Different campaign. This is a variation of that commercial that never aired, with Steve Jobs himself narrating.
Here's to the crazy ones. The misfits. The rebels. The troublemakers. The round pegs in the square holes. The ones who see things differently. They're not fond of rules. And they have no respect for the status quo. You can quote them, disagree with them, glorify or vilify them. About the only thing you can't do is ignore them. Because they change things. They push the human race forward. And while some may see them as the crazy ones, we see genius. Because the people who are crazy enough to think they can change the world, are the ones who do.
Whether intentional or not, the words describe Jobs quite well. The aired version ended up being narrated by Richard Dreyfuss, and won several awards.
(Source: osxdaily.com)
¿Quien esta encargado de la innovación aquí?
Llega Steve a las puertas del cielo y….
Thoughts on Steve Jobs' passing
I wrote my first story on the Mac 128 I got in 1984, and my second, and my third, and pretty much all of them until I got a color Mac II in 1988. I wrote on that for years, until I got my first Powerbook in the 90s. I used that Powerbook to take my first steps onto the Internet, using a VT100 emulator, a 4800 baud modem, and the mysterious ftp and telnet protocols.Today, I own and use a Macbook Pro and an iPad. I have so many iPods, most of them just live in a drawer at my desk. My wife has an iPhone and an iPad — the first two devices that made it possible for her to embrace her inner geek and understand the one she married — and both of my kids have Macbooks. Anne has an iMac in her office that she uses every day.Hearing that Steve Jobs died today hit me in the stomach, even though I'm not an Apple Fanboy, and I love to tease and make fun of Apple Cultists. I use a rooted Android and spend almost as much time in a Linux VM as I do in Mac OS… but the world I live in was shaped by Steve Jobs and the people he inspired. I got to find the person I am because Apple tools made it easy for me to take my ideas and move them from my head onto paper when I was a kid, a teenager, a twentysomething, and today.I don't agree with everything Apple does, but I feel like the world lost an important person today, and I feel like I lost a distant relative who I never got to meet, but knew everything about because for one reason or another his influence was everywhere I looked.
Wil Wheaton
(Source: wilwheaton)
There's always the hope that if you sit and watch for long enough, the beachball will vanish and the thing it interrupted will return.
Not sure why this is posted on a Thursday morning, it is Thursday right?
But, this comic is possibly a reaction to the news yesterday that founder and CEO of Apple Steve Jobs has passed away.  The beachball "eternal flame" is what comes up on the screen of the Mac OS X Operating System when the computer is working on something.  It does not usually bode well for the application to eventually respond - which is referenced in the image text.